Don't get left in the cold: Larry's furnace tips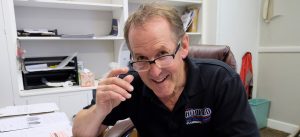 I love cold weather. I mean really cold… think hot-chocolate-sipping, slipper-wearing, fireplace-roaring cold. And while it's wintry this week. It looks like next week (Feb. 8) it's gonna get really sub-zero chilly. You don't want the furnace going out in this kind of weather. Here are a few easy furnace tips to be sure your old gal is ready for what Mother Nature has in store.
Check your furnace filter. If it looks the least bit dirty change it today. A dirty filter is responsible for so many furnace problems. Don't risk it with sub-zero temps coming.
Some furnaces have door safety switches that can create a heating call-in. If you have to take the door off to get to the filter then make sure the door switch is pushed in when you put the door back on.
Make sure the thermostat is on. This sounds simple, but it happens a lot. The switch gets turned off and homeowners forget. Or the batteries go kaput and the thermostat needs a new set. Then a customer calls for help and the fix was that easy.
If you have a PVC vented furnace most times they come out the back or side of the home…these vents have to remain clear from leaves and snow. Best to head outside to be sure you're set.
Finally—a shameless plug. If you find yourself in need of help. Call us. We're available 24-7 if you find yourself out in the cold.